The Intelligent Wafer Sort System, IWSS, was designed to be the cost effective, easy to implement upgrade for all AI RWM customers. The menu structure and terminology used in this comprehensive mapping package was specifically designed to allow for a simple, smooth transition from the AI RWM package into the IWSS package. From our intuitive menu structure and ease of use, to our process improvement tools and utilities, you will see that the IWSS package delivers unparalleled performance and value to your probing process, with minimal process disruption.
Compatibility
Minimal training and ease of use were two of our primary objectives when we designed IWSS. To meet these objectives we designed the screens and menus in IWSS to match the RWM screens in layout, terminology and function. As a result the IWSS system may be easily operated by anyone who knows RWM.
<![if !vml]>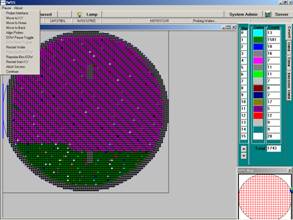 <![endif]>
Control Map Conversion
The IWSS Control Map Conversion utility will safely and quickly convert all of your existing RWM control maps along with all of the associated product Ids, into the IWSS control map format.
Control Map Creation
Building control maps with IWSS is simple and easy. By using a mouse, and linking the prober and the mapping system, the user can create and edit a control map quickly and easily. Maps may be created or edited with either the IWSS Prober module or in the IWSS Report module.
<![if !vml]>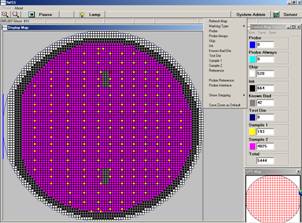 <![endif]>
Control Map GUI editor
IWSS Automated Control Map Function
The built in IWSS inspection system may be used to create control maps. By first visually inspecting die, then probing and electrically characterizing each die location, the user can automatically build the control map to their specifications.
Probe Sessions
IWSS will probe your wafers, and display the Wafermap real time as it is being built. With 32 bin monitors, consecutive bin failure tracking, auto scrub, auto save and all of the pause menu options that RWM offered, your operators will be running as usual with a minimum of training.
User definable probe card arrays.
One feature of IWSS is user definable probe card arrays. This option allows a user to specify the shape and the device sequence within the probe card, up to 128 die, in any configuration they choose to build. At EMTS, Inc, we understand that multi die probe card design is based on the electrical characteristics of the device under test and the physical space limitations that exist around the probe needles. To this end, we allow the user to specify the multi die array they would like to use.
NAM (Array Map) import and export
The IWSS package provides utilities to create several map formats, including NAM. This allows the customer to transfer data between IWSS and RWM reliably and safely.
Tester Interface
IWSS supports all the standard prober / tester interface standards: IEEE-488, RS232 and TTL. With our Prober alias feature, IWSS can appear to one prober type while interfaced to different prober type. This helps us to interface probers to testers, even when the correct prober driver is not present.
Common and local parameters
IWSS employs two sets of parameters, common and local. Each IWSS system may be set to use common or local parameters. The common parameters are stored on the network, and when changed, will affect all systems that are set to use them.
Windows operating system
We have built our new software platform to operate on Windows NT, Windows 2000 or Windows XP. This brings all of the best features and options of a Windows environment to our customers wafer sort floor.
Microsoft SQL Server database
We have built our relational database using Microsoft SQL Server. This robust database package is capable of managing gigabytes of data, safely, securely and reliably.
Open database structure
The IWSS database is open. Unlike the AI RWM package with a proprietary database structure, your programming staff will have access to your data in the database using standard SQL calls. This will allow the Information Services department of your company to create and modify any custom reports that they choose to, without having to use an outside resource. And, the standard IWSS API package is RWM compatible
User Hooks
IWSS has user hooks that spawn commands upon certain events in the probing process. Commands may be spawned to automatically export IWSS data into your RWM database, to facilitate a smooth upgrade from RWM to IWSS.
Email
IWSS will send reports and error alerts via email to specified addresses. This feature is designed to reduce MTBA and provide reports to product engineers upon completion of a lot.
Higher Throughput
With IWSS hybrid interface structure and the optional IEEE-488 interface, IWSS is the fastest mapping system on the market today.
<![if !vml]>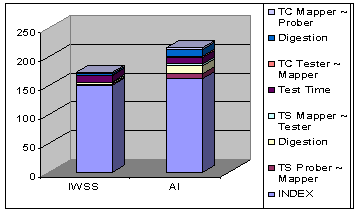 <![endif]>
Comparison of IWSS to RWM using RS232 Interface
Inspection System
IWSS inspection pass routine allows the user to run an intelligent visual inspection session, on a lot of wafers. The devices to be inspected are selected by bin code and the wafer map may be updated based on user inputs.
World Wide Support
Our support extends from Europe to Asia, and all support personnel are experienced prober professionals with years of experience in the industry. To sum it up, our service and installation teams know mapping and probing.
Dual sort floor running
With IWSS spawned commands and our map import and export utilities, a customer may run their test floor with a mixture of IWSS and RWM systems. Running both systems in parallel allows the user to upgrade from RWM to IWSS without disrupting their current data flow.
Future Development
EMTS Inc, Engineers are constantly working on improvements for the IWSS package. We are confident that we can find a solution to almost any mapping problem that a customer may experience